Uniquely designed to invite birds in for a snack and help birders' favorite activity last all day long, these Fly-Thru? Bird Feeders by Good Directions combine simplicity with elegance. The long-lasting copper finish makes this bird feeder the perfect addition to any garden setting. It's easy to hang, and because it's also see-through, it's easy-to-know-when-to-fill! The feeder has plexiglass panels for added strength and drainage holes to help keep seed dry.
$89.95
Related Products
$46.95
Here's an all-in-one gift guaranteed to delight bird lovers - an unusual and ingenious feeder with seed! It makes feeding birds neater, easier, and more efficient than ever: simply lift the rain-shedding roof and slide in a seed cylinder. The feeder's wire grid encloses the seed, discouraging squirrels while making an easy meal for climbing or perching birds. A catch tray at the base reduces waste and drainage holes prevent water from pooling. Strong steel construction with handsome copper plating and black matte powder-coating for years of enjoyment.
$209.00
Sit back and enjoy the company of songbirds as they stop by for a meal in this Copper Shingled Roof Bird Feeder. Made of copper and eco-friendly, long lasting mango hard wood. Each natural mango wood feeder will exhibit its own unique graining and color variations making it an elegant focal point for your garden and a wonderful dining establishment for your feathered friends. Birds love this spacious feeding area, which is protected from rain and snow.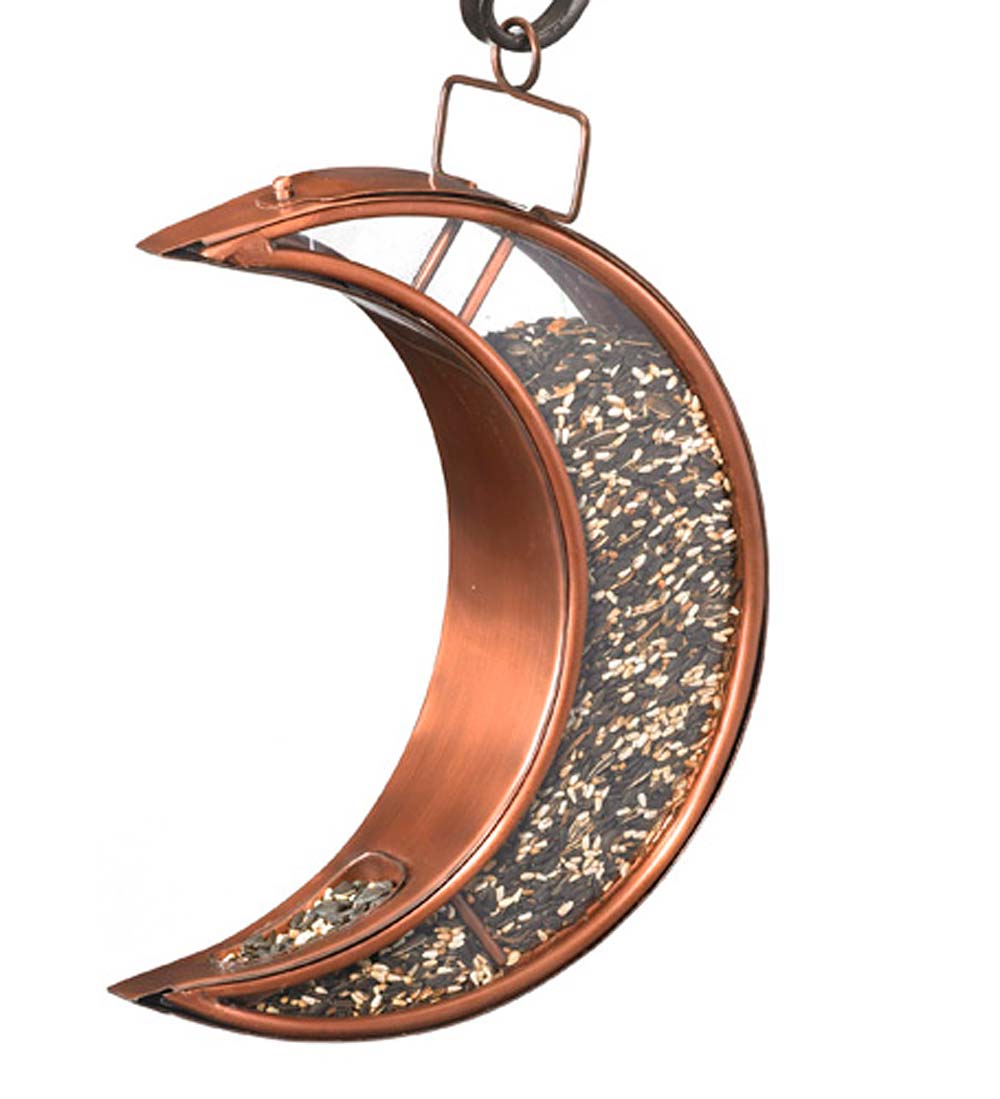 $89.95
Make it easy for birds to eat everything under the sun. and moon. with this delightful Crescent Moon Bird Feeder. The unique crescent shape invites birds to perch and eat in comfort, giving bird lovers plenty of time to enjoy their favorite activity. The long-lasting antique copper finish makes this bird feeder the perfect addition to any garden setting. The sturdy plexiglass sides allow you to see when it's time to refill, but with a four-pound seed capacity, that shouldn't be too often. A panel on the top opens to facilitate cleaning and filling and there is a drainage hole in the bottom.