The shallow bowl design of traditional bird baths requires daily emptying and cleaning - but this innovative drinking system gives clean water for several days at a time. Galvanized metal base is rust-resistant and the blue glass bottle is reminiscent of antique canning jars.
$19.95
Related Products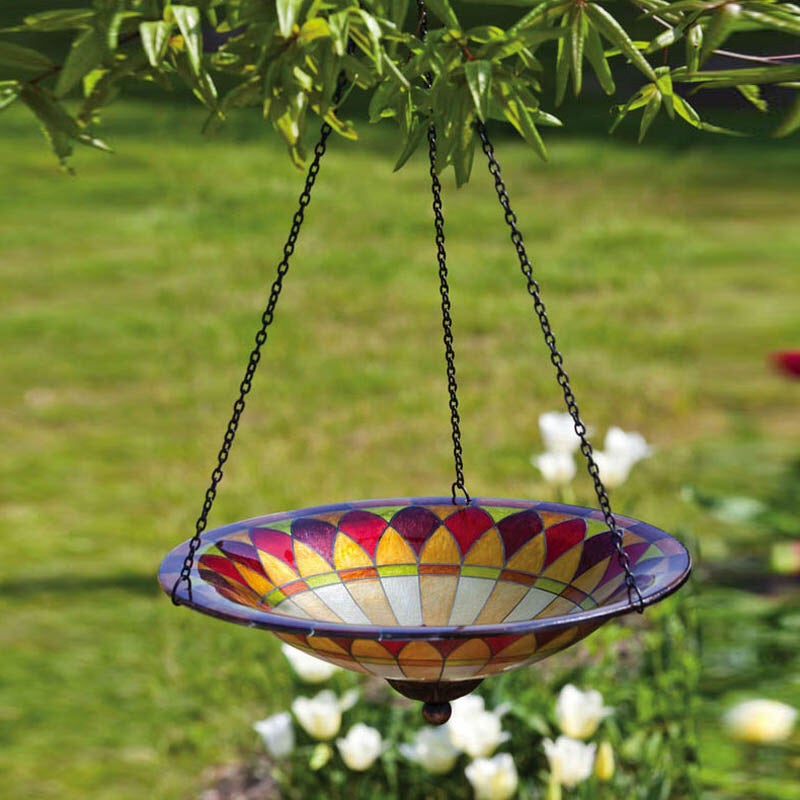 $32.99
This hanging bird bath offers a beautiful spot for birds to drink and clean their feathers. With a purple, pink, and yellow Tiffany-inspired petal design, the glass bowl hangs from the included metal chain and can be brought inside as a decorative bowl or display piece. Both colorful and functional, this birdbath will welcome your feathered friends to your yard as well as catch the eye of all passersby!
Add an attractive outdoor accent and a place for feathered friends to gather with this bird bath. Featuring a chic, modern mosaic design, this bird bath will add soothing shades of blue to any outdoor living space. Everything necessary to set up this outdoor piece is in the box, including 1 glass bird bath bowl and 1 metal stand. For best results, it is recommended to place this bird bath in a shaded location. Simply set up this outdoor accessory by unfolding the stand and placing it on a stable, level surface. Carefully place the glass bird bath bowl on top of the stand and fill it up with water; now the bird bath is ready to be used!
$89.95
Adorned with delightful silhouettes of perching cedar waxwings, this birdbath is a striking way to provide much-needed water to visiting songbirds. It holds a generous 2 gallons, with a sturdy metal stand that holds the birdbath securely and folds for storage.