Sparkling in the sunlight like an aquamarine jewel, this hand-blown glass hummingbird feeder balances like a work of art on its gracefully curved hanger. The ruby red flower on top is a magnet for hungry hummers; hang the feeder near a window or by the porch so you can enjoy these lively garden visitors. Made from recycled glass, the feeder screws securely into the powder-coated metal hanger.
$26.95
Related Products
$64.99
This colorful chime consists of 3 strands of reclaimed bottle segments sliced and melted down to form circular glass drops, each provided with a durable tinted color finish and accented with a melted glass bead. The glass chime is suspended with resilient woven filament that does not decay. Atop the chime is an intricate butterfly, laser cut from metal and powder-coated in black. Measures approximately 25 inches in overall length with a brass hanger. The chime is designed for outdoors, but a sheltered location is recommended, where high winds and moving objects are at a minimum.
$109.99
Place an Army Ant on active duty in your garden - he'll invade with ingenuity and serve to provide your yard with the perfect touch of creativity! Made with recycled metals, including a wrench for mandibles and an authentic World War II army helmet as the abdomen, the Army Ant Sculpture stands approximately 12" tall and 17" long. Used outdoors, a rust patina will develop naturally on most of the metal sections. Handcrafted in Utah.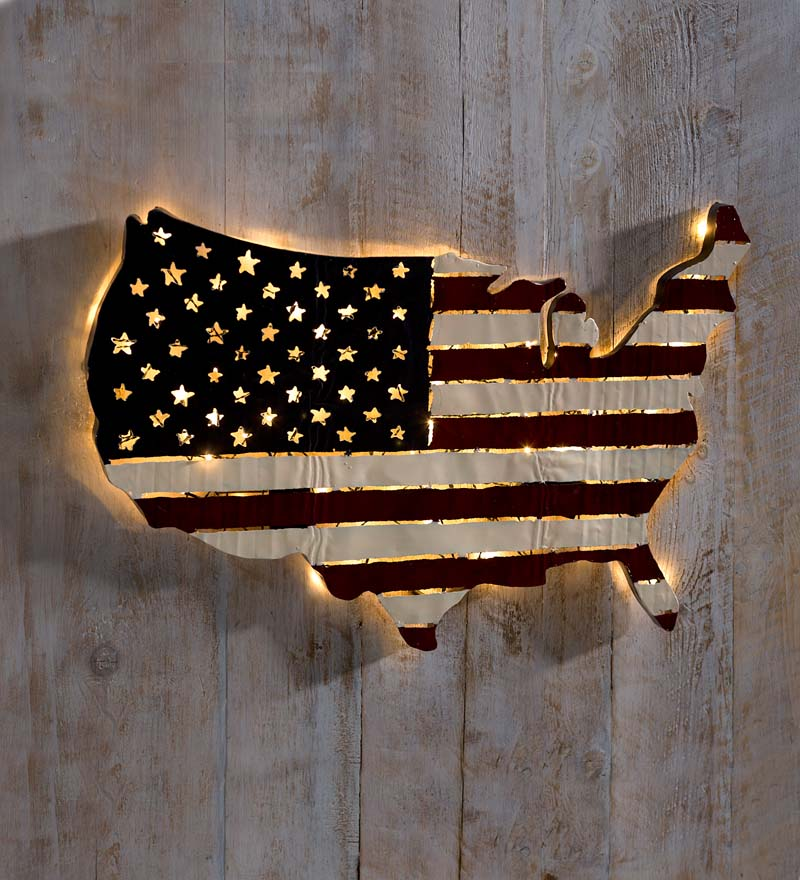 $99.95
Our festive light-up America-shaped accent is perfect for summer or all year long. With its battery-operated auto-timer LED lights, this artwork shines day and night. Timer runs 8 hours on, 16 hours off. Indoor/outdoor design is hand crafted from recycled metal in Bali - each one is unique! Requires three AAA batteries (not included).