A cozy addition to any backyard patio or deck, this durable outdoor fire pit features unique and stylish cutouts that create an incredible fire ambience at night. Sturdy steel construction with a large 23-1/2-inch fire bowl plus a full diameter safety ring that works great as a footrest or convenient handle for carrying. Weighing less than 35 pounds, the firepit's lightweight design makes it easy to take camping, the beach or vacation home. Included is a full size enamel cooking grate and poker for stoking the fire. The spark screen protects your guests from stray sparks while they enjoy the 360 degree view of the fire with the stars and moons design cutouts. Firepit provides 397 square-inch of viewing and warmth. Firepit measures 29-1/2-inch in diameter and 23-inch high.
$92.92
Related Products
This 3' curved steel, black, weather-resistant firewood log storage rack is great for holding firewood. Stylish design meats function and organization with this contemporary curved log rack. Store firewood neatly with this durable rack. The 36" rack will keep wood organized and ready to go. With its sturdy steel construction it is engineered to last.
$72.57
Small Square fire basket with Rust Finish 15" x 15" x 12". Create a cozy patio setting as you watch the flames dance from this unique fire basket. Safer than a ground campfire.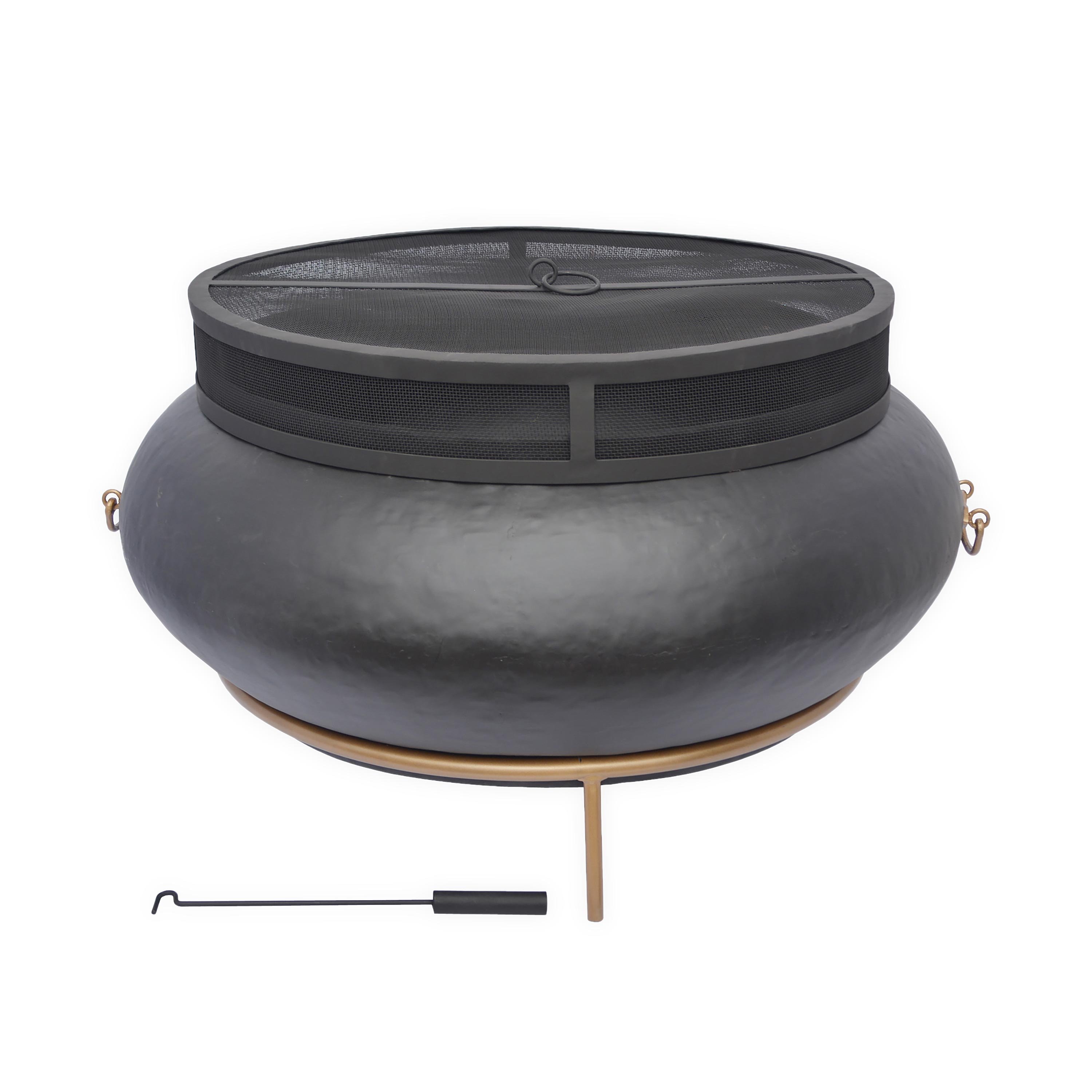 Was:
$899.95
Now:
$499.97
Create lasting memories when you gather around the dancing flames in this Cast Iron Fire Pit with Fitted Mesh Spark Guard and Stand. This cauldron-style fire pit has a classic matte black finish accented by its golden handles and the gold-colored, three-legged metal stand. The custom-fit, reinforced mesh spark screen allows you to enjoy the fire while keeping sparks and embers inside. A convenient metal hooked rod with handle makes it easy to remove and replace the screen as you add wood and a grate within the fire pit supports your wood and allows ashes to fall into the bottom of the cauldron.