Light up your night garden with this pretty daisy garden solar stake, made with durable steel construction with a bronze patina finish. Convenient and easy to place, our daisy torches are completely wire-free and fully solar powered, automatically turning on at dusk. Our torches produce a powerful light output 15x brighter than standard solar lights. Included with our torches are two bright LED solar lights that deliver approximately 6000K of cool white light likened to daylight. Our outdoor solar lights measure 18" high by 11.5" wide and are powerful enough to fully illuminate your backyard or garden. Our batteries are completely rechargeable, providing you a run time of 10 hours and a charge time 6 hours.
$55.00
Related Products
This bright yellow hand crafted metal sunflower will add a splash of light and color in both the day and night. In the day it is a beautiful piece of garden art, at night fill the torch section with citronella oil to light up your yard, and keep the bugs away. Durable and beautiful, it will bring color and light to your garden or patio year-round. Size: 14 inches wide by 32 inches tall.
$59.00
This vibrant red velvet queen sunflower bird feeder is sure to attracted your feathered friends to your yard. A beautiful garden decoration and a bird feeder in one! This durable bird feeder is made from all weather powdered steel and won't rust/corrode. Size: 13"W x 34"H.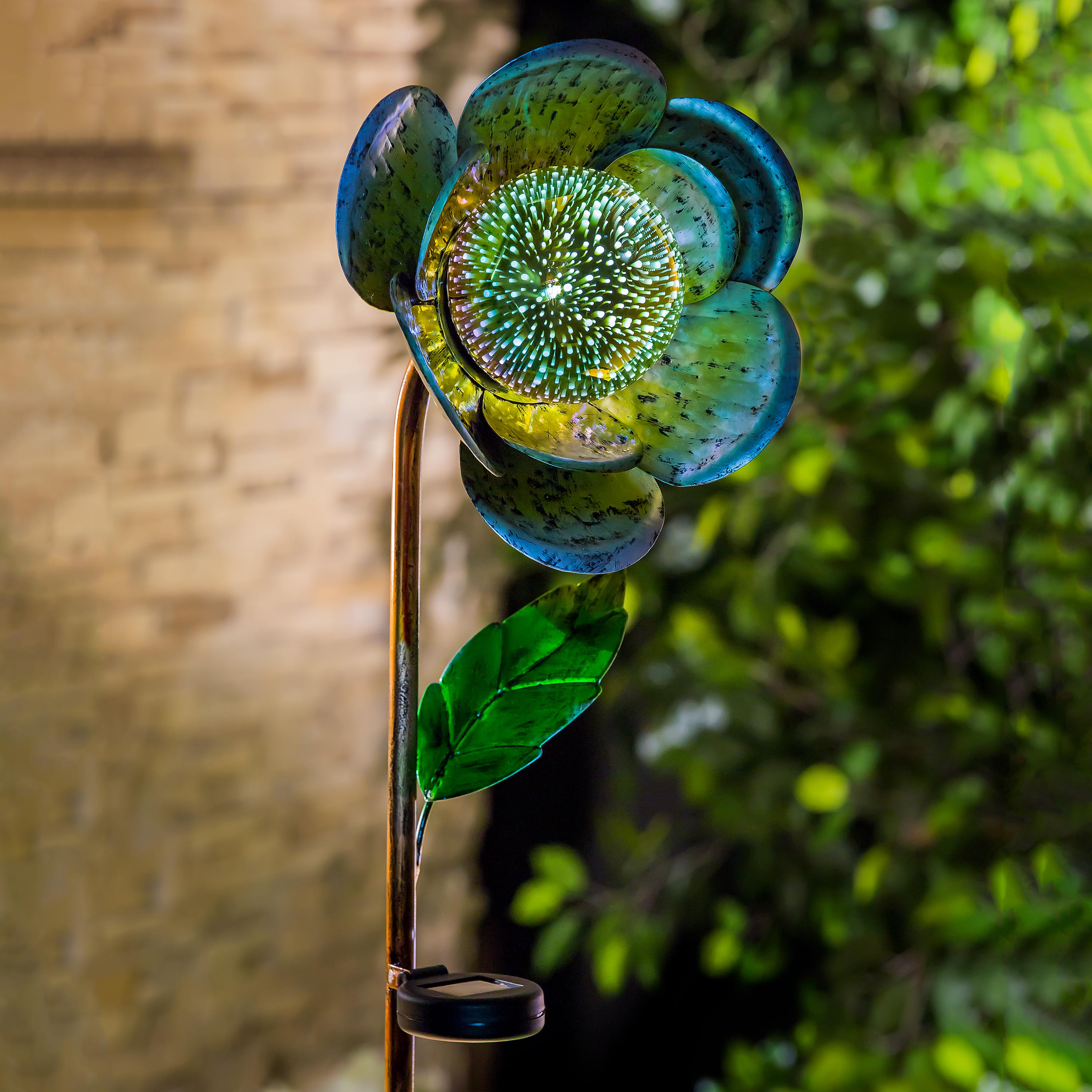 $39.95
Pretty by day, eye-popping at night, this solar-powered Pansy Garden Stake is an elegant addition to your garden or flowerbed. This eye-catching flower stake has a glass center that emits a mesmerizing 3D starburst effect at night. A multi-layer process combined with LED lights creates unique dimension. The surrounding metal petals feature a brilliant finish that reflects the glow. The solar panel is incorporated into the flower's stem, which stakes into the ground on dual prongs. Use this garden accent to dress up a flower bed or offer a little extra light along a pathway. It will be the star of any space! Metal, glass and plastic construction.