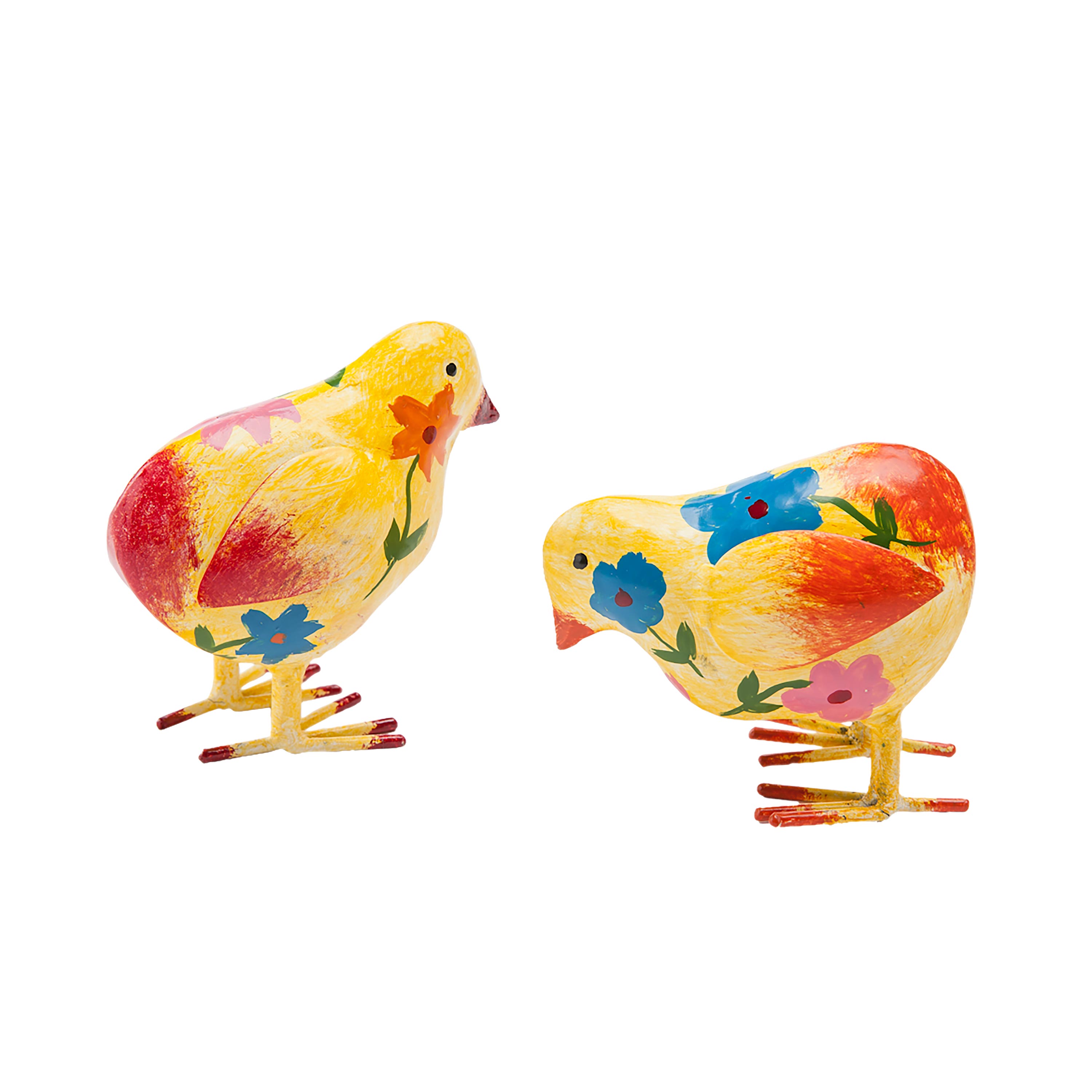 Don't be chicken! These bright, fun and funky Folk Art Chicks are a colorful way to brighten you yard, garden, porch or kitchen. Folk Art Painted Metal Chicks are cheerful yellow with a charming flower design. They're sure to catch the eye and spark conversation. Painted metal Chicks can be used indoors or out. Set of two. Size is approximate. Handmade by artisans in Bali.
$19.95
Related Products
Our elegant metal herons appear ready to lift off and dance through your garden. These life-size statues are made of textured and layered metal sections, hand painted with delicate details for an amazing feather-like appearance. Wonderful adornments for any lawn or garden space. Measures 32-1/2" tall.
$49.95
Give your garden & yd splashes of bright, tropical hues with our set of 3 colorful glass bird statues. Hard to miss, these adorable little avians feature iridescent glass bodies in metal frames, each possessing their own unique style. Crafted with feathered metal tails & a weather durable finish, these vibrant Birds can peck around outdoors even in the winter. Let these long-legged feathered-friends land in your yd, garden or patio decor, & watch as they spread smiles & cheer all year long!
Was:
$179.00
Now:
$164.10
The SPI Home Stylized Garden Crane Pair Statue is a beautiful embellishment to any pedestal of your garden, yard, or patio. This pair statue is made from aluminum, which ensures years of reliable use. It features a combination of gold and blue finish that is powder coated to add a polished touch to it. Tall and slender, this pair statue is sure to give a noticeable appearance to your outdoor space. This pair statue looks eye-catching when placed in a pair. Also, it can look superb when placed separately in your garden. This Stylized Garden Crane Pair Statue from SPI Home helps accentuate the look of your outdoor space.