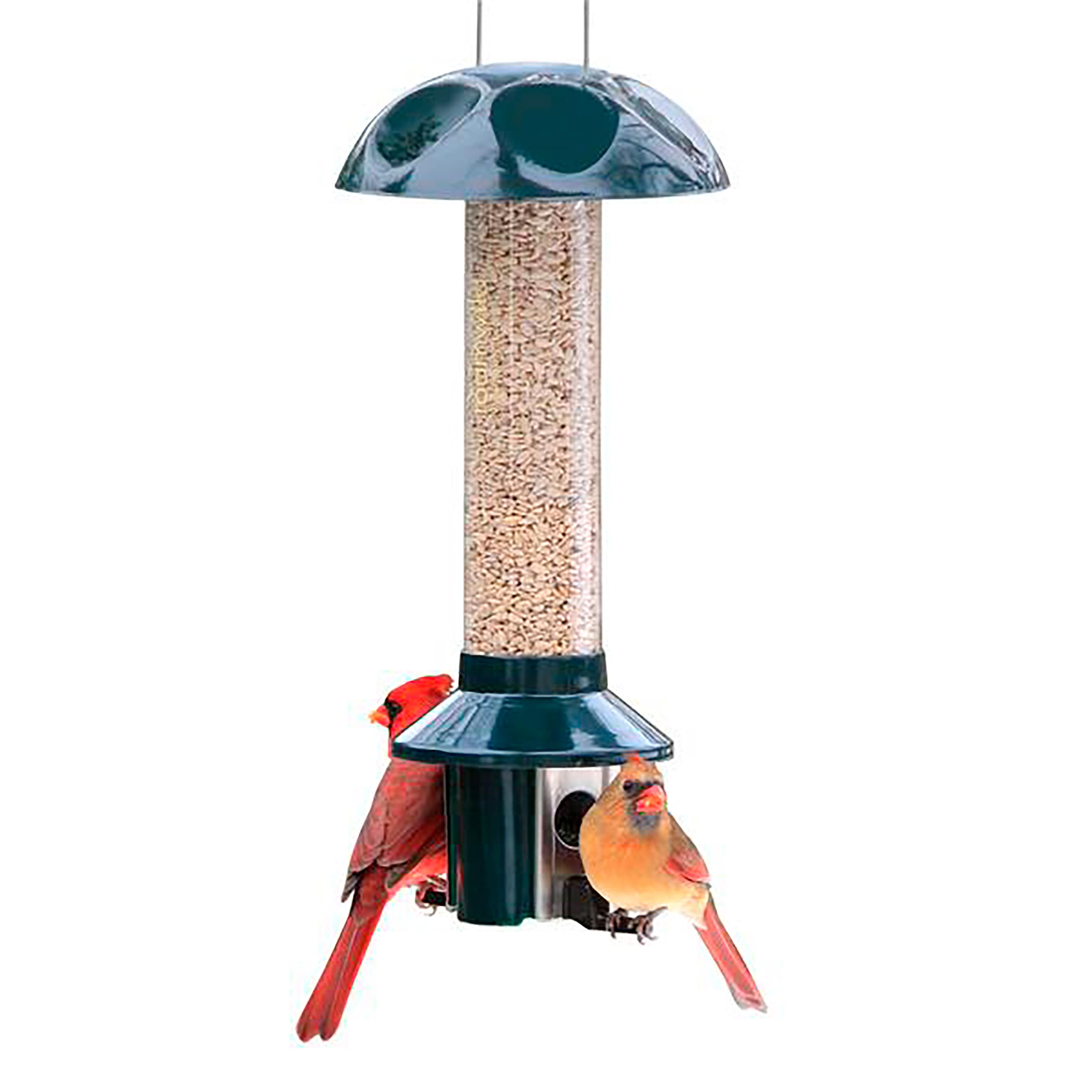 Keep squirrels, chipmunks, pigeons, and more from gobbling up the precious seed meant for your songbirds with the PestOff Sunflower Mixed Seed Bird Feeder. Its clever design features spring-loaded perches that lower under the weight of even smaller pests (like baby squirrels and grackles), closing a hatch over the feeding port to block access to the seeds. Once the critter leaves, the port opens again, making it easy for songbirds to get to the food. Easy to clean and fill, this feeder includes a weather guard above each feeding port so the seed within stays dry and fresh. Non-spill lips prevents seed from falling out. Large, three-pound capacity.
$39.95
Related Products
Squirrel Buster Standard is a squirrel proof wild bird feeder with a lifetime warranty. It is easy to clean and to fill. It is weight adjustable to exclude larger birds, and no tools are required to assemble it. Holds 3/4 quarts of seed.
Was:
$135.00
Now:
$128.91
The Droll Yankees Yankee Flipper is a motorized squirrel-proof bird feeder that allows birds to eat while preventing hungry squirrels from getting a meal. The specially calibrated perch ring begins spinning when triggered by the weight of a squirrel, forcing the squirrel to lose its grip. The Yankee Flipper holds up to 5 pounds of birdseed and features an internal baffle that disperses the seed evenly to all four feeding ports. The bird feeder features a UV-stabilized polycarbonate tube that won't discolor over time, as well as a metal base and cap with a powder-coated forest green finish that resists chipping and fading. The tube bird feeder hangs by its sturdy stainless steel looped bail wire that reduces motion to prevent seed from spilling. The Yankee Flipper measures 8. 3 by 8. 3 by 29 inches. Made in the USA, it is backed by a lifetime against squirrel damage.
Bring small songbirds like wrens, finches and chickadees into the yard with this squirrel-proof bird feeder. This bird haven features a plastic tube with 3 pegs for the birds to perch on as well as a steel wire cage surrounding the plastic inner cylinder. The steel hanging handle on the top makes it easy for securely hanging it up in any outdoor space. This feeder accommodates a variety of seeds including: smaller birdseed blends, sunflower, safflower, cracked corn, thistle, and millet.